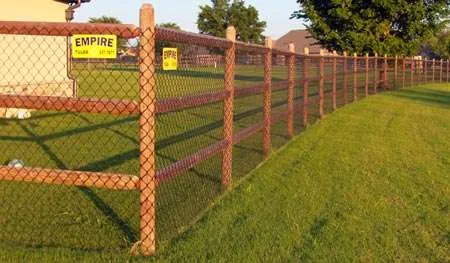 If you are in the market for a wood rail fence, you have come to the right place.
In this article we are going to discuss different types of wood rail fences.
A wood rail fence has horizontal rails connected by vertical posts.
Differing from privacy fences, wood rail fences provide visibility through the fence while creating a visible boundary for your property.
Wood rail fences are commonly used along yards, farms, neighborhoods, commercial properties, walkways and other property boundaries.
This simple guide will help you decide what type of wood rail fence is best for you.
Let's get started.
Round Rail Fence
Sometimes called western rail fencing, a round rail fence is built from round posts and round rails.
It usually includes either 2 or 3 rails.
Round rails are designed with tapered (doweled) ends.
The tapered ends of each rail are used to anchor the rail into the posts.
Posts and rails are pressure treated to resist rot and decay and provides more longevity and durability for the fence.
The smooth round look of this fence makes it a popular choice.
It is common to see round rail fences with chain link fence attached to it.
This provides an added barrier protecting children and pets, while keeping other animals out all without obstructing your view.
Learn more about round rail fence options ›
Wood Split Rail Fence
A very basic fence design, the wood split rail fence adds a simple rugged look to your property.
Today's split rail fences are an adaptation of the old zigzag rail fences from yesteryear.
It may be a better option for use on larger properties where you need to see the borders of your property at a distance.
It is commonly used on farms and ranches to keep livestock contained.
Split rail fencing is probably the most cost effective wood fence option for fencing in large areas.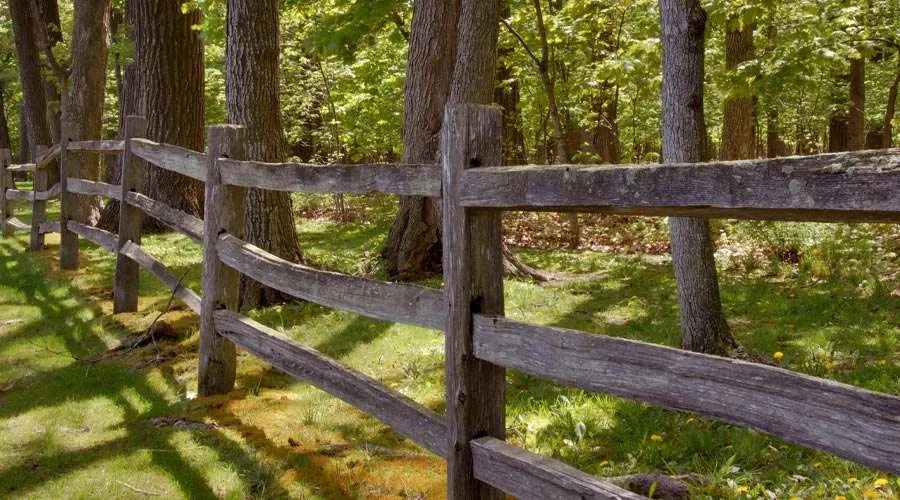 This is because the process to make split rails is simpler compared to most other rails.
Logs are split lengthwise to make individual rails.
They continue this process until multiple pieces have been created.
Split rail fences are also very low maintenance…
Most split rail fences are made from rot and insect resistant cedar.
Because of the beauty of the natural wood, you will not need to worry about chips or repainting.
Split rail fences can last 15 or 20 years and longer.
Ranch Rail Fence
The ranch rail fence offers a clean and sophisticated look.
The rails used for ranch rail fences are smooth or rough cut rectangular planks of wood, typically 2 x 6 lumber.
These rails are commonly made from western red cedar wood.
Rails can be left plain to weather into a gray color.
…Or you could stain or paint the fence any color you desire.
Ranch rail fence fence posts may be round or square.
Also, as you can see in the picture above…
It is common to nail ranch fence rails on the outer edge of each fence post.
This can provide a more finished look to your property.
Staining and routine maintenance can extend the life of your fence.
Vinyl Rail Fence
While not a wood fence, another popular style of railed fencing is the vinyl rail fence.
Vinyl rail fences come in a variety of style options.
A vinyl rail fence is certainly an eye catcher for its striking white color, but that is not the only thing that makes it stand out.
High quality vinyl material are strong and known for longevity.
Vinyl can withstand certain outdoor elements that can compromise the structural integrity of a wooden fence over time.
Vinyl fences require very low maintenance…
Their smooth texture makes them simple to clean off with a hose.
Over time, if you happen to spot any grime or mold rinse it off to prevent any discoloration.
Vinyl fences most commonly come in white, black or brown.
Wood & Metal Rail Fence
The last wood rail fence type we will look at is the wood & metal rail fence – a modern take on the wood rail fence.
This is a great option if you are looking to invest in the longest fence life for your rail fence.
Metal posts are the strongest posts you can use for a wood rail fence.
Unlike a wooden post, metal fence posts are 100% rot and insect resistant and can last for decades.
Most of our wood and metal rail fences are made with stained cedar planks and black metal posts.
The combination of the metal posts and the wooden rails offer a beautiful modern look with rustic appeal.
These beautiful fences also perform very well for security when combined with a black vinyl chain link fence.
In Summary
There are many things to consider when it comes to choosing the right wood rail fence design for you.
It really comes down to your preferences in terms of looks, budget and utility required for your new fence.
Whether you need a new wood rail fence for your own property…
…or for your neighborhood community, we'll be glad to help evaluate your options!
---
Contact Empire Fence

As a regional leader in wood rail fence design & installation, Empire Fence of Tulsa is here to help… by providing professional service at an affordable price. Contact Empire to get a quote for your next fence ›